Operatives of the Kaduna State Police Command have arrested 15 suspected bandits, while several others were killed when the bandits attempted to kidnap innocent victims.
The arrests were made when the police operatives had an encounter with the suspects.
men of Benue State Police Command, it was gathered, rescued over seven victims and recovered AK47 rifles, including police rifles and 30 rounds of ammunition at Buruku Village of Chikun Local Government Area of Kaduna State.
The Kaduna State Commissioner of Police, Mr. Yekini Ayoku told disclosed that on May 9, 2022, the police operatives conducted routine patrol on Galadimawa road in Giwa Local Government Area of Kaduna State.
He said during the routine patrol, the operatives intercepted a black Lifan Motorcycle being ridden by one Abdulrahaman Adam, a member of the legislative council of Soba Local Government Area of Kaduna State representing Kinkiba Ward.
"My men were suspicious of the sack that was being carried on the motorcycle and this prompted a search on it. And in the process, a concealed AK 47 rifles, loaded with six rounds of 7.62´39mm live ammunition was retrieved," he said.
The suspect, Abdulrahaman Adamu  admitted to committing the offence.
He said: "I am currently serving as a member of the legislative council of Soba Local Government Area in Kaduna, representing Kinkiba Ward. I got the firearms from my accomplices and I am to deliver to the same bandits around Galadimawa village for their notorious activities.
"They only gave me N100, 000 to get them firearms. I always go to the bandits within my village. It was after the bandits had used my AK47 rifles that they would come and give me my firearms back. Some of my friends are bandits who use the firearms to terrorise Kaduna State.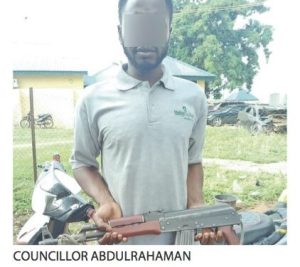 "I have cooperated with the police operatives to assist them and took them to some of my friends who are bandits to recover more ammunition from them. This is not my first time, I always give out my firearms to my friends who are bandits to use and return.
"I started renting it out to them many years ago. But I have never followed them to carry out the operations. It is after they carry out their operations that they would later return my AK47 rifle," he said.