This article shows a list of top ten ugliest people in the world right now.
While many people derive joy and happiness in looking good, some say being seen as "ugly" or "monsters" gives them the fulfillment they've been longing for.
Some of these people spend a lot of money on cosmetic surgeries, body modifications, and tattoos to disfigure their faces and other parts of their bodies just to look ugly, some were as a result of failed cosmetic surgeries while others were born ugly.
Without wasting more time, let's take a look at these people who have been ranked as the ugliest people in the world and why. Are they really ugly? Let's see.
1) Godfrey Baguma
Opening our list today is Godfrey Baguma, a Ugandan gospel singer who goes by the stage name, "SSEBABI". He was a former shoe cobbler who won the "Ugliest Man In Uganda" contest back in 2002 and has featured in many editions of the competition.
He was born with a rare and unknown medical condition that caused one side of his face to swell and researchers still don't understand the cause to this day. Ssebabi, as he is fondly called now makes money from public appearances such as gospel music shows and stand-up comedy events and he originally went into the "Mr. Ugly Uganda" competition because he wanted to raise money for his family.
The 47-year-old man is also married to a beautiful Ugandan woman and they have about 8 kids together.
2) Dennis Avner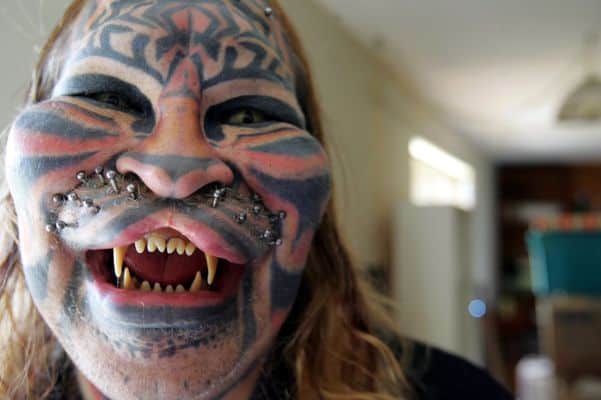 Dennis Avner is also one of the ugliest people in the world, and he likes to be referred to as the "Cat Man" or "Stalking Cat." This American man wasn't born "ugly" as he has spent millions of dollars on more than 17 cosmetic and body enhancement surgeries towards the goal of being referred to as "ugly".
According to him, the major reason for the many modifications he performed on his body was because he came from the tribe of the Hurons, and also of the Indian people of Dakota – a tribe that is known to have the emblem of a tiger.
Over the years, this man has been injected with countless medicines that helped in his body transformation process. He also became a celebrity in no distant time and was invited to many talk shows and events regularly.
3) Mison Sere
The next person on this list of the ugliest people is a Ugandan man who goes by the name, Mision Sere. He won the "Mr. Ugly Contest" in Uganda in 2015 and although the audience complained that this man's ugliness wasn't natural since it was based on missing teeth, the judges still deemed it right to crown him the winner of the competition.
According to him, it was an honor to be crowned as the "Ugliest man" in Uganda and since nice looking models make money from their looks, ugly people should be given a chance too.
4) Eric Sprague
Eric Spraque who is professionally known as The Lizardman is an American performer who is popularly known for his endless body modifications.
His body modifications include a sharpened set of teeth, a full-body tattoo of green scales, a bifurcated tongue, subdermal implants, green-inked lips amongst others.
His green body colors in the form of tattoos, sharped teeth, and divided tongue give him the true appearance of a typical European green lizard. This 47-year-old entertained holds a bachelor's degree in philosophy and he was also a Ph.D. student before his transformation.
5) The Enigma
The Enigma is an American actor and stage performer who has gone through countless surgeries and body modifications of which some include horn implants, ear reshaping, multiple body piercings, and a full-body jigsaw-puzzle tattoo.
He started tattooing his body as far back as 1992 and he later married a lady known as "Katzen the Tiger Lady" who is also a tattoo and body modification freak herself. They have since divorced.
More than 200+ tattoo artists and body modification experts have worked on this guy so you can imagine how much he has spent so far to look this ugly.
6) María José Cristerna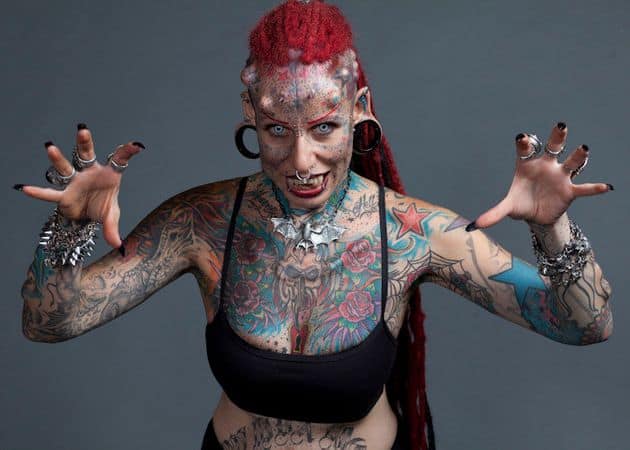 María José Cristerna who is popularly referred to as The Vampire Woman
or "The Jaguar Woman" is a Mexican businesswoman and tattoo freak. She got her first tattoo at the age of 14 and right now, this Mexican national has about 96% of her body covered with different types of tattoos.
Guinness World Records have also recognized her as the most tattooed woman on the planet, and she is also one of the most recognized personalities in the world of tattoos.
7) Lucky Diamond Rich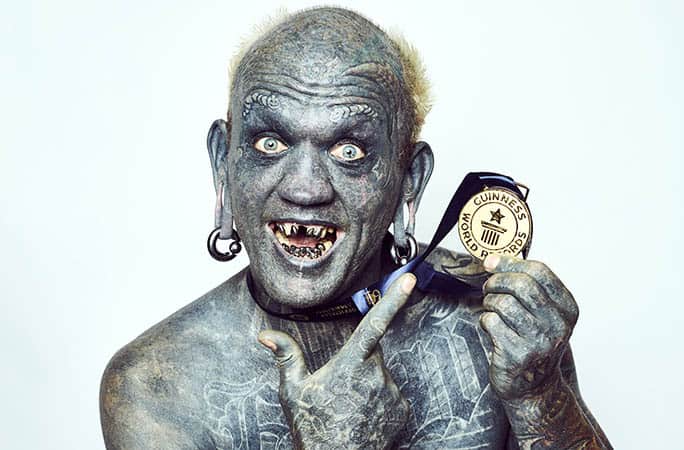 Gregory Paul McLaren who is popularly known as "Luck Diamond Rich" is a stage performer and tattoo artist who is known for covering his whole body with tattoos and slight modifications.
He is known for holding the Guinness World Records as "the world's most tattooed person". His tattoos are mostly black and they cover almost every tattooable part of his body including his inmate area. Lol.
8) Donatella Versace
Donatella Versace is an Italian businesswoman and fashion designer who is also one of the ugliest people in the world right now.
She founded the popular Versace company which many of us know today alongside her deceased brother, Gianni Versace and even though the company was sold in 2018 to Capriholdings, she remains a notable personality in it.
One major thing you need to know about this woman is that she wasn't born ugly but it seems that nobody remembers what she looked like before the bad plastic surgery. She also looks so thin and many believe that this could be a result of an undisclosed eating disorder that she has.
9) Michael Berryman
Michael Berryman is one of the world's ugliest people who make a living out of it. He is an American actor who was born in 1948 with a rare condition that causes the absence of sweat glands, hair, and fingernails in his body.
With the help of his "ugliness", Berryman has been able to make a successful career out of portraying characters in horror movies and acting in general. He has starred in over 150+ movies so far and counting.
10) Jocelyn Wildenstein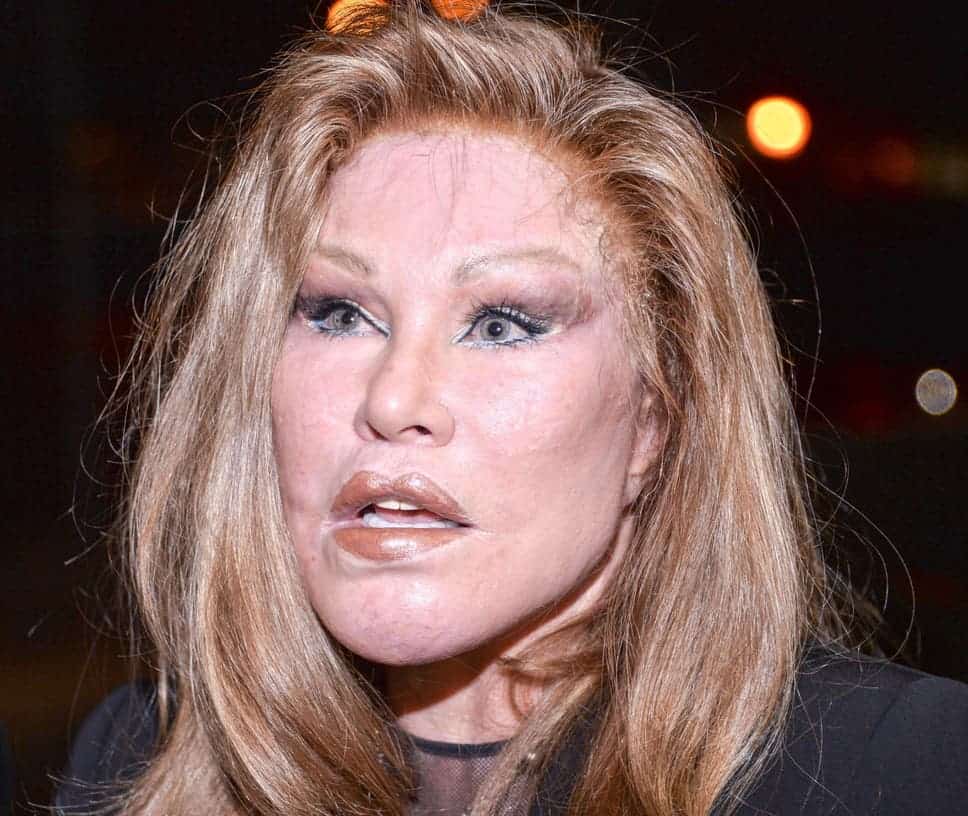 Jocelyn Wildenstein is a billionaire American socialite and cosmetic surgery freak who is widely known for her extensive cosmetic surgery which resulted in her catlike appearance which you can see in the picture above.
According to multiple reports, she spent almost 4 Million on this cosmetic surgery, and the results? Being regarded as one of the ugliest humans in the world. She also reportedly made her billions from divorce settlement which she got from her high-profile former husband, Alec Wildenstein who is a billionaire art dealer and businessman based in the United States.