Gabriel Ogunjobi, a journalist with FIJ, has been forced to hide inside a toilet to escape arrest by men of the Nigeria Police Force, who became violent towards protesters and journalists covering the June 12 protests on Saturday.
According to FIJ,  Ogunjobi was covering the protest when policemen started firing tear gas and arresting everyone in sight. To avoid the fate that befell his colleague Adeola Oladipupo, who was earlier arrested by policemen, Ogunjobi fled to a nearby toilet.
"I am now surrounded by the Police. I am hiding in a toilet at Ojota," he said in a text. "I can hear the Police saying 'arrest them' as they shot tear gas at protesters and journalists."
The Police had earlier in the morning arrested two teenagers and accused them of inflitrating journalists. Some minutes later, amidst shooting of teargas, the Police arrested Adeola Oladipupo, another FIJ journalist, but he was later released.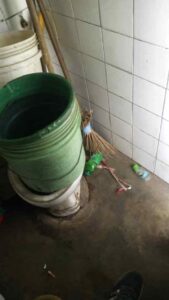 The security operatives had earlier told journalists to leave the protest ground. When journalists asked where they should stay the, the Police failed to give any response.
The June 12 protests are against bad governance by the Muhammadu Buhari administration.
According to the protesters, the president has failed in addressing the challenges in the country, including that of insecurity.
The June 12 protesters were demanding an end to bad governance when they were tear-gassed by the security operatives.